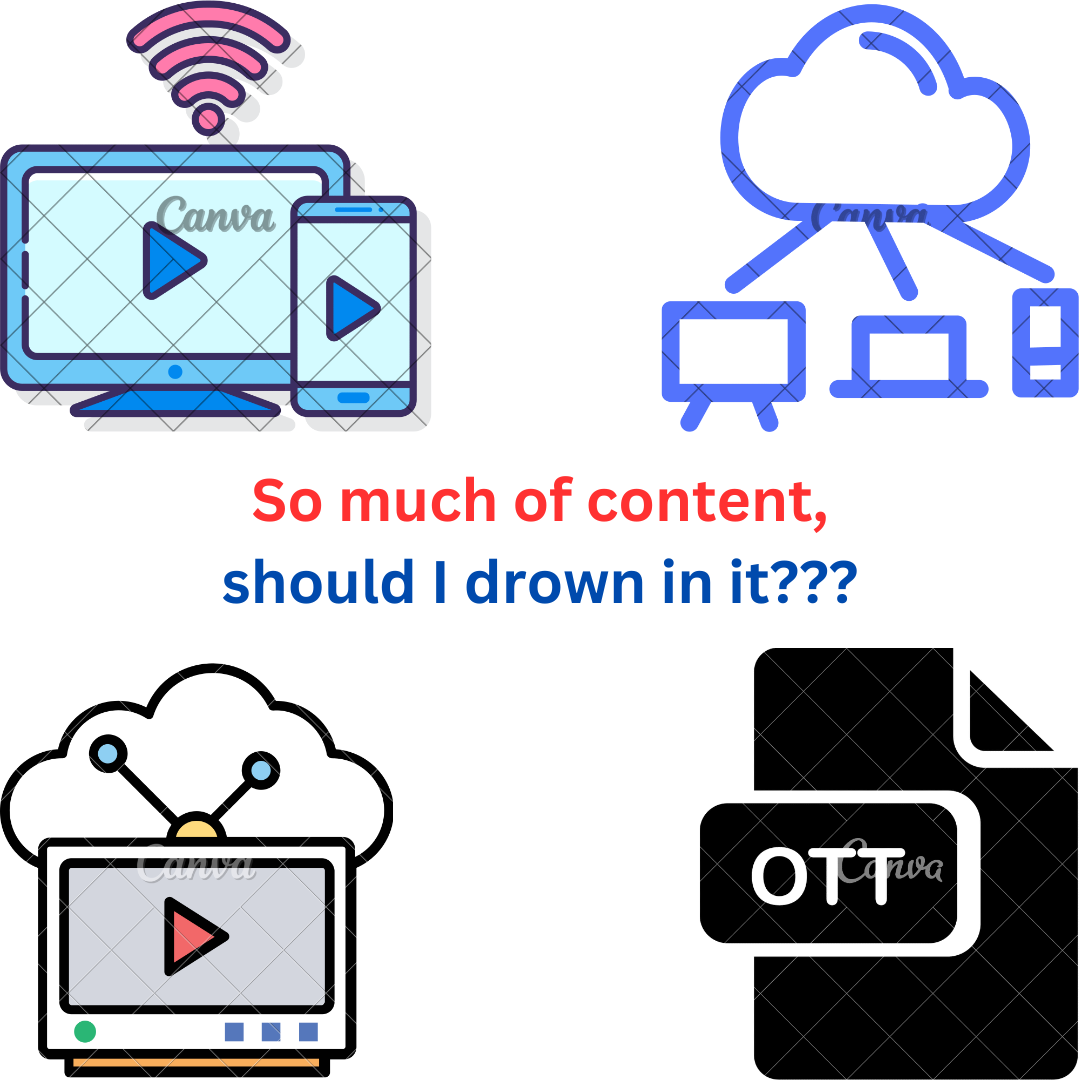 Content, content everywhere, especially in OTT!
And for that matter, it is not just over the top (OTT) content I am unable to watch! I am unable to even read any books of late. It has been a long time since I have read a complete book, be it fiction or non-fiction! Of course, I am still a voracious consumer of written content.
But it is mostly articles on the internet. And yes, I still 'religiously' read at least one Indian newspaper in the English language every day! My writing 'engine' has slowed down considerably. I need to invigorate it and churn it back to life soon. Somehow, I am forced to write at least once a month for my blog.
The content of my younger days – Novels!
Coming to novels, as I have stated several times before, it was my late dad who exposed me to the wonderful world of books. At a very young age. But he very seriously asked me to stop reading novels. When I was leaving for the USA to do my Ph.D. in Biomedical Engineering. I do not remember asking him the reason for this. I realized that since I was anyways going to the land of my dreams, what was the point of still reading about life over there? This does not mean that all the novels are published only in the USA. How can I forget that my favorite author, Jeffrey Archer belongs to the UK?
My interesting subscription to the leader of OTT, Netflix!
Ok, coming back to the main topic of this article, i.e., OTT subscription services like Netflix and their like. I had to pay for the Netflix subscription as my daughter had accidentally subscribed to it. And hence I was forced to pay for it! Of course, I too was longing to watch the content available on it. But I was unable to decide to subscribe to it.
My voracious consumption of the content on the OTT king, Netflix!
Once I started my subscription to Netflix, all the pent-up desires of watching popular content sprang up in my heart and my brain. I started with two Bollywood films that are classics, Gangs of Wasseypur (two parts – parts I and II). Then I watched the popular Spanish series dubbed in English, Money Heist and then I started watching The Good Doctor. I am unable to recollect what else I watched! I suddenly remembered my days from my childhood when I used to not sleep until I completed a novel or any other book I started reading! Even if it was 3 a.m.
One thing is for sure, the content on OTT platforms is highly addictive!
Boy, I was watching Money Heist even during my daughter's school's annual day function. I had taken earphones along with me. But the sound emanating from the speakers was so loud that it drowned the sound coming out of my cell phone! Even when I was using earphones. I just removed the earphones and turned the volume to full on my cell phone.
Of course, since there was only my wife who was sitting beside me, the sound from my cell phone was not a problem. As I have already mentioned that the speakers used in the function were so loud to drown the sound of any apocalypse if it suddenly occurred! In between, I did not miss hearing the owner of the corporate school chain saying he had property worth INR 1,000 crores! And he made us buy even drinking water during the school function!
After using Netflix for about two months, I decided to pull the plug. And stopped the subscription once and for all! Now even though it was very cheap (INR 149 was the starting one and I had gone in for the INR 199 plan), there were some salient takeaways from using Netflix.
Unbelievably amazing amount of content available today
Entertainment has become very cheap but there is the problem of plenty. And this applies not just to OTT but books, audio, videos, podcasts, music, etc. It has become similar to the fast-moving consumer goods (FMCG) category! And just like the FMCG goods, the content industry too is highly addictive, to say the least!
I was unable to consume the content on just Netflix, what about the rest of the OTT platforms?
I was just unable to find the time for consuming the content on just one OTT platform when there are nearly 25,000+ providers of OTT. God ALMIGHTY save the consumer!
Unable to read books too!
Ditto with books. There are just so many books. I am a budding writer. I do not even know when I will meet success. Recently, there was a request from a reader of my content on Medium to write about different sleep disorders. I consider this request very highly. And I will honor that request pretty soon.
Honestly, what are the solutions?
So, what is the way out? With a Ph.D. in Biomedical Engineering from the USA, I should have found a way by now. But no, there are super duper and more highly intelligent entrepreneurs like Elon Musk and Max Hodak who are trying to create a platform like Neuralink. Of course, their mission is to "Create a generalized brain interface to restore autonomy to those with unmet medical needs today and unlock human potential tomorrow."
Implantable chips/patches to deliver content to the brain directly!
But I envisage an implantable soft chip or better still a thin film like a patch that contains audio, video, and any other content attached to my scalp or my neck (area/s close to the brain). And deliver the content to my brain even when I am asleep. I know it is a very tall order but not impossible. So, is there anyone out there ready to support me in this venture? Provide me with lab space, funding, and labor. And I will deliver this in sha ALLAH (ALMIGHTY ALLAH willing)!
Hey, do you know my journey to a PhD from the USA?
You will be surprised to hear about my journey to the USA for doing my Ph.D. My younger brother was instrumental in persuading me to do my Ph.D. and I have stated this before. But my choosing Biomedical Engineering as my Ph.D. subject has a small story behind my decision. All of you are certainly aware of condoms. I had an idea to increase the pleasure of using condoms for males by inserting microfabricated parachutes inside their tips! I was probably shy to bring my idea to life and hence I stuck to working with chondrocytes, nanofilms, and co-culture patterns for cell culture!
Boy, how I wish to bring down the price of my Homeopathic consultation and treatment?
Coming to the pricing, I would love to replicate the cheap pricing strategy adopted by corporates like Netflix and for that matter, coming to my country, the homegrown Telecom giant, Jio of Reliance industries. My late dad's wish when he joined me in Homeopathy had a noble intention that one day, I would be able to practice Homeopathic medicine even for free without charging a single rupee! Alas, that dream of my late dad is still a dream. Because unfortunately, I have not grown to that stage where I can offer my services in the Homeopathic world for free!
So, until something revolutionary is discovered, I will carry on my life without Netflix and other such OTT platforms and even books! What say, my fellow bibliophiles scattered around not just in this world but probably the entire universe? Hey aliens, are you listening?